For those of you that follow me on Insta, you'll know that I am a teen fashion guru who spends a lot of my time in bikinis and summer gear. And nooooo, before you even go there, it's not like I'm some Victoria's Secret wannabee. It's because I live in the sunny state of Florida! East coast living doesn't need too many layers ☺
Over the years I've learnt to trust my instincts, and (with some inspiration from Teen Vogue), started to understand what bikinis flatter and those to avoid.
So here I am, sharing with you some teen fashion advise and my top five bikini picks, that suit every teen fashion enthusiast. That's right #justgowithit and go forth and flaunt what your Mamma gave ya!
Urban Outfitters, Billabong Vai Via Bikini (Top $55, bottoms $55)

OK, so it's not cheap, but if you're looking for one of the best teen trends, something sassy and timeless, that you can wear season after season, this is it.
The vertical stripes are instantly flattering, for the self-conscious amongst us. And whether you have modest or bigger boobs, the bikini top will keep you in and make the most of your assets! Straps are detachable, for avoiding all those white marks.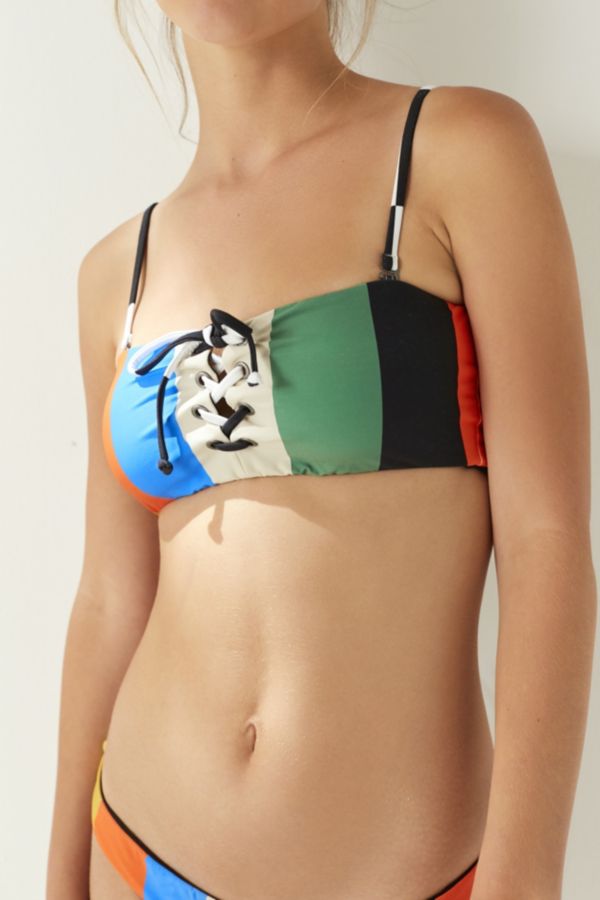 Target, Tie Front Barlette American Flag – XhilirationTM Blue – $14.99
Oh, say can you see why I love this bikini so! Look at me getting all patriotic n all. This star-spangled two-piece bikini gives me all the summer feels. Fun and flirty and all within the realms of good taste too.
There's something fun about it that says Katy Perry, and you know how we love her. It fits snug makes it a great buy for everyone.
Pink, Victoria's Secret – Smocked Off-the-Shoulder
(Top $21.99, Bottoms $10.99)
Want something a little different? This online exclusive comes as part as a mix and match set. The top reminds me a little of Miley Cyrus before her good-girl-gone-bad days, LOL! It's feminine and super cute, ideal any time of year. I would personally pair it with some real simple ruched bottoms in purple, a great color for fall. Plus it is one of the teen fashion for bikinis on sale at the moment, whoop whoop!
Forever 21 – Metallic High Leg Teen Fashion Bikini
(Top $10.99, Bottoms $11.13)
Is it just me or have bikini legs gotten far too high of late? Yeah, we can blame those Little Mix ladies for that one!
But, I've managed to find a fashionable high leg bikini that works for any shape or size, it is one of the most selling teen fashion clothing right now. The generous bikini top evens it out, so you don't feel too self-conscious while soaking up all those rays.
Bring it on! With a sharp black trim against the on-trend nude color and with sizes ranging from small to XL, this is an all-round hit.
What can I say, I love a tie bikini! This strappy number comes in one of my favourite summer colours, an aqua greeny-blue that will make you stand out from the side-lines.
The top is sexy yet supportive and the bottoms are flashy without flashing too much, ideal for all shapes. It's the perfect balance of all the good things I look for in a two-piece sui, I hope you love it too! A must have teen fashion accessory. 
Forever 21 – Metallic High Leg Bikini
(Top $10.99, Bottoms $11.13)
And finally,..the ultimate bikini for cool teen fashion look
H&M, Black 'High Waist' Bikini – $14.99
I had to start with H&M because it's my go-to high street store and never lets me down. I really love this black ensemble that channels my inner Angelina Jolie in Tomb Raider!
This is a great piece for running about on the beach and playing volleyball as it's pretty supportive. There's also something quite empowering about and the high waist bottoms make it super flattering for sexy teen fashion.
The Teen Fashion Bikini On Budget
Forever 21 – Metallic High Leg Bikini
(Top $10.99, Bottoms $11.13)
Liked this read? Here's more on Fashion Advice