My mom always tells me about how much time she spent in the mall when she was my age—not just to socialize, of course, but also to shop. Now, even though I definitely hit the mall from time to time, I also find that sometimes it's just more convenient to do my shopping online. The only issue is that sometimes it's hard to determine which sites have the best options and prices, but after years of trying dozens of brands, I've found the best online clothing boutiques for teens looking for great style at great prices.
Let's take a look:
1. ModCloth
If their fun and flirty, vintage-inspired clothing weren't enough to have you throwing all your cash at ModCloth, the company's stance on body positivity will definitely do the trick. Even before 2015, when ModCloth began using its employees as models for its swimwear campaigns, the brand was applauded for offering extended sizes and generally being super welcoming of women of all shapes and sizes.
What I'm loving right now: Worth the Wink Midi Dress in Sage
One of the great mysteries of the world is how dresses from the 50s and 60s can be so feminine and figure-flattering without being too tight or revealing, and this dress is no exception. The fit-and-flare style works on all body types, and I also love the fun color as a departure from traditional shades. You'll definitely stand out in this choice. 
2. PacSun
Think PacSun has nothing to offer if you're not surfing your days away in the California sun? Think again. Sure, the brand offers swimsuits and boardshorts in any style and color you could imagine, but there's also a lot more to offer. In addition to selling its own branded clothing, PacSun also features pieces from other popular brands, including Adidas and Beyonce's Ivy Park line.

You can't go wrong with swimwear from PacSun, and this fun suit is perfect for summer days at the beach or pool. I love that the side cutouts are fun without being too revealing, and the wide range of sizes makes this a perfect choice for many different body types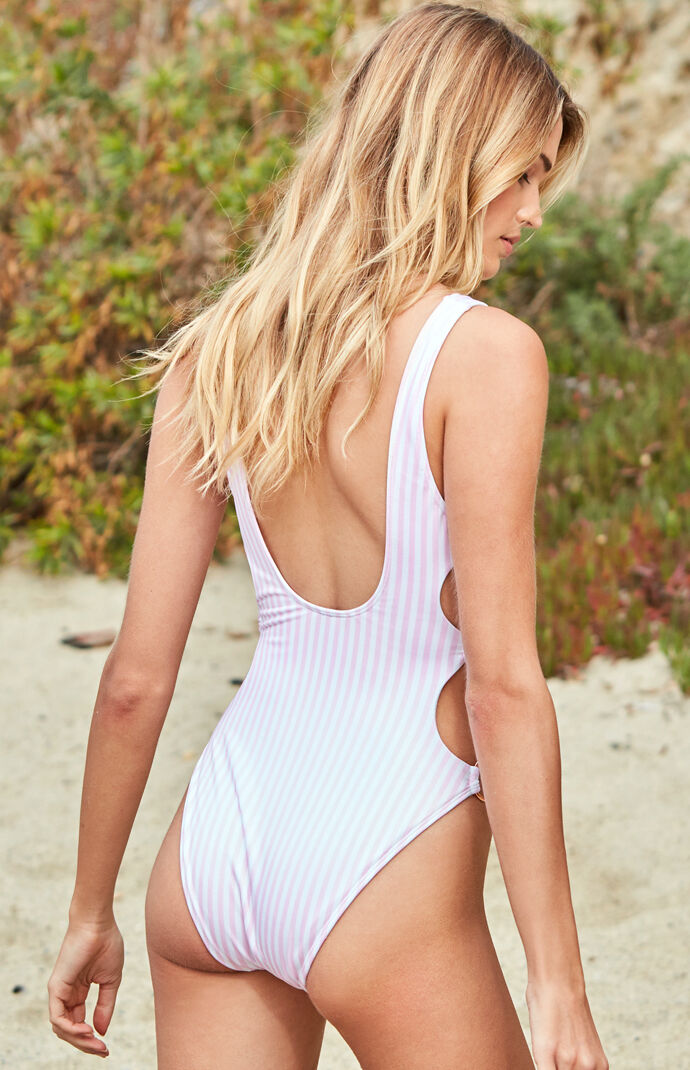 3. NastyGal
Since launching Nasty Gal in 2006, founder Sophia Amoruso has become a self-made millionaire and internationally known #Girlboss. Still, though, it's important to remember how Amoruso has landed magazine covers including Forbes and Entrepreneur—and that's her ability to assess the market to determine the clothing and accessories that young, fashionable women want to wear.

I'm not shy about my love for a great pair of sunnies, and my favorite shades to wear are those that are super unique. The thick frames that outline only the bottom and sides of the half moon shaped lenses on this pair totally fit the bill. These shades are a fun and original take on sunglasses that is sure to turn heads!
4. Free People
If you're looking for a one-stop shopping destination that features a variety of product offerings—from clothing, to shoes, to beauty and wellness products—Free People is for you. There's a definite bohemian vibe with this brand, but even if floral blouses and flowy skirts aren't your thing, there's surely a pair of ripped jeans or a bodycon minidress that will appeal to you. Additionally, the Free People price range is all-inclusive (from $4 to $2,500-plus, according to wikipedia), so your budget doesn't have to spoil your shopping pleasure.

I'm all about the return of flare jeans, and I love that this pair has a trendy feature in multiple vertical seams down the front of the leg. The detail creates an elongating look—especially for girls with shorter legs—and the high-rise waist ensures a flattering silhouette for everyone. These are must-buys for sure!